Red banana is a pretty unusual fruit. It's a relative of the much better known yellow banana and has incredible nutritional value. Numerous scientific studies have proven the usefulness of this banana for our health.
The unusual color certainly gives them a special charm. As the world connects more and more, the red banana is slowly but surely becoming a popular choice.
If you want a little variety and vibrant colors, paint your table with this lively fruit. Red bananas are picked while they are still green because they ripen while in transport.
Their taste is similar to raspberries. The rich flavor of this beautiful fruit is a real pleasure. The application is extensive, and unique magic is to add them to fruit salads. Red bananas give each dish another dimension.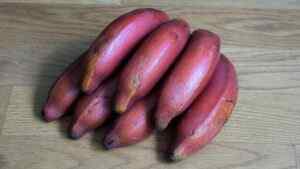 Nutrition facts
Red bananas consist mostly of water. As much as 74% of red banana is water. But, they are an excellent source of vitamin C and zinc, both of which may help boost your immune system.
Besides, red banana is a heart-healthy fruit. It has only 0.33 grams of fat per 100 grams and cholesterol-free. Also, it has a significant amount of protein, calcium, and magnesium.
Since red banana is rich in sugars, it provides as many as 89 calories per 100 grams. Also, it has 22.84 grams of carbs per 100 grams. So it's not recommended if you're on a keto diet.
However, moderate consumption of red bananas may promote weight loss as they are rich in fiber.
According to the USDA, red bananas provide the following nutrients per 100 grams (1).
Water: 74.91 grams
Calories: 89 kcal
Protein: 1.09 grams
Fat: 0.33 grams
Carbohydrate: 22.84 grams
Fiber: 2.6 grams
Sugars: 12.23 grams
Calcium: 5 mg (0.05 % of the DV)
Magnesium: 27 mg (7% of the DV)
Phosphorus: 22 mg (3% of the DV)
Potassium: 358 mg (10% of the DV)
Vitamin C: 8.7 mg (10% of the DV)
Health benefits of red banana:
1. Rich in antioxidants
Red banana is a rich source of antioxidants. They have more phenolic compounds than other banana varieties. Research reveals that dietary intake of plant phenolics may slow down aging and help fight diabetes (2).
It's also critical to point out that red banana contains carotenoids, which may help reduce the risk of developing cancer cells and various eye diseases (3, 4).
Besides, a study has found that red bananas have a low glycemic index value of 44. It also revealed that red bananas have phytochemicals that might help manage type-2 diabetes (5).
However, you must note that all bananas, including red banana, are high in carbohydrates. Therefore, it's advised to eat them in moderation, especially if you have diabetes.
2. Helps reduce your blood pressure
Studies show that even short-term potassium deficiency is very harmful to our blood vessels (6).
One of the main characteristics of red banana is its richness in potassium, which makes it an excellent choice for lowering blood pressure.
Also, the abundance of magnesium in red bananas may help regulate muscle and nerve function, blood sugar, and blood pressure (7).
3. Preserves your gut health
Another essential characteristic of red banana is its richness in fiber. So it improves your digestion and prevents constipation.
Moreover, research says that the intake of high-fiber foods is associated with a reduced risk of heart diseases and piles (8, 9).
Fiber also plays a vital role in maintaining blood cholesterol levels and has been linked to weight loss (10).
4. Good for fertility as well
Another notable perk of eating red banans is that they help improve fertility.
Red banana is a rich source of beta-carotene and vitamin C. Both these antioxidants are essential for female fertility.
According to a study, the intake of these antioxidants is associated with reproductive hormone concentrations in healthy women (11).
Red bananas are also rich in zinc, which is an essential mineral for male fertility.
Zinc improves prostate health, regulates testosterone, and generally makes a man's sexual health much better (12).
5. Boosts your energy
As a rich source of energy, red bananas are great for your body when you are working hard.
No matter if you strain your mind or your body. Bananas will help you get through hard work more efficiently.
Remember that bananas are a favorite choice of tennis players who need tremendous energy due to great effort.
6. A healthier alternative to yellow bananas
We have already pointed out that red bananas are highly nutritious, but you'll be surprised by the information that they are superior to yellow bananas.
Red bananas are softer and sweeter than yellow bananas. They have a higher amount of antioxidants, vitamin C, and beta carotene than yellow bananas.
Furthermore, red banana is an ingenious trick if you are addicted to sweets. Your craving for desserts will be much less if you eat this fruit regularly. You can use them to make bread and cakes.
Conclusion
Red banana is a real treat. An exotic raspberry-like taste will make you addicted. If you haven't encountered this fruit before, give it a try, and you won't regret it. The health benefits are an added plus, so a red banana is an ideal substitute for sweets.